Why Selling Your Home Early in the New Year Can Get You a Higher Selling Price
Every winter we see very similar trends emerging when it comes to seller activity over the festive period. The number of homes coming onto the market starts to decline in November, before slowing to a trickle in December. Although things pick up a little during the first few weeks of January, it isn't really until February that you really start to see the supply of properties to the market really pick up.
There are a few reasons for this. Many sellers find funds to be a little tighter over the festive period so they aren't able to get their home on the market until the first pay day of the new year at the end of January. Other sellers would rather wait until after the festive period so that they don't have to deal with potential buyers over the holidays. Finally there is a perception among some sellers that there aren't many active buyers on the market during December and January, so they may believe that it's better to wait until the February or March before deciding to act.
In reality though, sellers are doing themselves a disservice by not acting sooner. The new year acts as a trigger for many people to kick of their search for a new home. Every year a huge number of buyers start looking almost as soon as the Hogmanay bells have stopped chiming, only to find that there is a lack of homes available for sale.
In simple terms, in early January there is a large amount of demand from buyers but very little supply from sellers. This means that sellers who do get their home on the market early can take advantage of this early surge in demand and secure a great price for their property.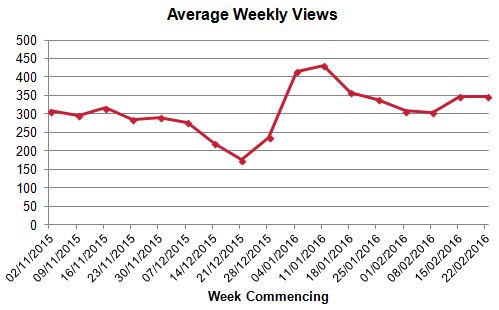 We can see the effect of this imbalance between supply and demand by looking at the number of views that properties receive online during December and January. Last year, properties marketed by Warners each received an average of around 300 views per week on espc.com during November, with this number falling to just under 200 by the end of December. Early in the new year though we immediately see a spike in buyer interest with properties receiving an average of more than 400 views during each of the first two weeks of the year before things start to settle don again.
The sellers who were able to get their home on the market during the first two weeks in January were able to take advantage of this high demand, with all but four of the 17 properties we listed during this time under offer by the middle of February. All but three of these achieved a selling price that exceeded their Home Report valuation, with premiums in excess of £10,000 or even £20,000 above valuation paid in some cases.
For anyone thinking of selling this winter, we would strongly advise them to get their home on the market as early as possible so that you can take advantage of the high demand from buyers and beat the rush of sellers who will come onto the market in February and March.
If you are thinking of selling this winter, Warners is offering you the opportunity to get your home on the market with no upfront costs with our Winter Promotion. For more information, call us on 0131 667 0232 or email winteroffer@warnersllp.com and one of our friendly team will be delighted to help.
< Back