Thinking of selling a property ? With Warners fantastic promotion you can get your home on the market with absolutely nothing to pay until your property sells.
Take Advantage of a Strong Sellers Market
The property market in Edinburgh & the Lothians has been especially buoyant over the last 12 months with buyer demand consistently outstripping the supply of properties to the market. If you're thinking of selling, Warners promotion allows you to get your home on the market to take advantage of this demand while paying nothing until your sale completes.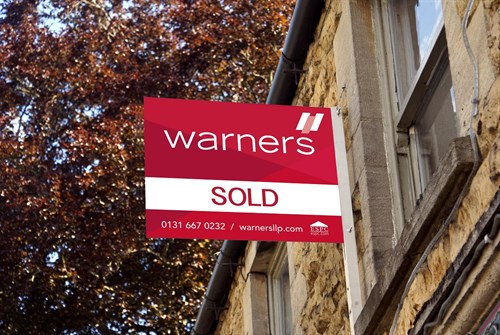 Get in Touch Today
Warners' fantastic Spring Promotion allows you to get your home on the market for free with nothing to pay until your sale is successfully completed. That way you can avoid paying hundreds of pounds in upfront costs and take advantage of the busy spring market and get a great result from your sale.
To arrange a free, no-obligation valuation of your property click here or for more information on Warners' Spring Promotion call us on 0131 667 0232.
Mortgage Calculator
Annual interest rate (5%)
Number of monthly payments :
300
This mortgage calculation is an indication of what your mortgage payment could be. To receive a no obligation consultation, please complete this form or call us on 0131 662 4747.