What Our Clients Say About Us
At Warners we aim not only to help people get the best result from the sale or purchase of a property, but also to deliver a great service along the way.
Because of that we really value feedback from our clients. As well as people leaving us reviews online on Facebook and Google, some of our clients like to send in their thoughts by email or post.
Here's just some of the feedback that we've received over the last few months.
"Happy? That's an understatement. I am still stunned. Many thanks for all your work, you have been excellent, as all the team have."  Dot, May 2017
"Just a wee note to say thanks for looking after us! We have been delighted how well it went and how professionally your team in Portobello handled the sale."  David Thomson, March 2017
"Warners have been everything I could have hoped for in an estate agent and I would very strongly recommend that anyone looking to sell a property choose to do so through them. From start to finish, sales consultants Stuart Quate and Calum Wilson have been first class."  Carol Butler, May 2017
"Michelle, Louise and Anne undoubtedly sold this property. Being consistently available on the phones, coordinating us, with interested buyers was a full time job! They were all great always professional but human and genuine at the same time. A great team. Thank you!"  Mrs Watson, July 2017
"Thanks for all your help . The service we have received from all of you at Warners has been brilliant!"  Jackie, July 2017
"We have found the service that we have received from Warners to be quick, efficient and professional. Their communication has been second to none and has allowed us to take a back seat in selling our home. We have been lucky enough to have a quick sale and would thoroughly recommend Warners."  Mrs Joshi, October 2017
"Would definitely recommend Warners for there outstanding customer service. Especially Danielle, Nicola & April for all their help"  Elaine, September 2017
Finally, we even have clients who get creative and go above and beyond when saying thanks, which led to this delivery in our Corstorphine office earlier in the year: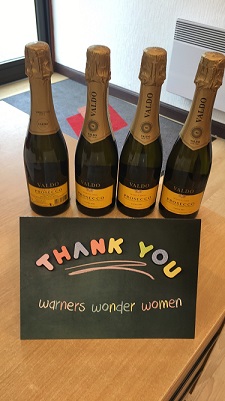 We are always looking for ways to improve our service though and really do value all feedback, good or bad, from our clients.
If you've used Warners lately we'd be delighted to hear from you so do please get in touch on 0131 667 0232 or by emailing property@warnersllp.com to let us know about your experience.