What Our Clients Say About Us
At Warners we aim not only to help people get the best result from the sale or purchase of a property, but also to deliver a great service along the way.
Because of that we really value feedback from our clients. As well as people leaving us reviews online on Facebook and Google, some of our clients like to send in their thoughts by email or post.
Here's just some of the feedback that we've received over the last few months.
"Can't recommend Warners enough! Rachel Curran was extremely helpful throughout the process of selling our property and made it such an easy, stress free experience. Thank you to Leigh Gargan who went above and beyond with both selling and purchasing our new property.  Will definitely use Warners again in the future." Claire, Dec 2021
"Can highly recommend Warners if you are looking to sell your home. Ours just went on the market 5 days ago and is now under offer thanks to our selling agent Rae Martin who has been so helpful, friendly and has kept us well informed throughout the whole process. We are absolutely delighted and wouldn't hesitate to use them again in the future, although we don't plan on moving again for a while hopefully!" Judy, Aug 2021
We used Warners as our estate agents for selling our flat and they were fantastic throughout. They were able to get our listing ready really quickly (important for us) and did a really excellent job. The listing looked beautiful and they provided great advice and fantastic communication throughout the process. We'd hugely recommend." Nicola, Nov 2021
"We recently had Warners sell our flat and put our offer in on a new house. They were absolutely fantastic every step of the way. A special thanks to Rachel Curran from the property team and Peter Moore, purchase negotiator. Their overall effort and communication with us was brilliant." Charlene, Nov 2021
"We have recently used Warners for the marketing and sale of our current home and I wouldn't hesitate to recommend them. The team have been fantastic - quick responses to our questions/requests, very helpful and informative throughout each stage of the process and overall just taking good care of us during what is typically quite a nerve wracking process. Our sales manager Louise has been especially great. We felt she always had our best interests in mind and her guidance throughout has been invaluable. We are continuing to use Warners for our conveyancing and I have no doubt that we'll continue to receive the same great service." Rachel, Apr 2021
Finally, we even have clients who get creative and go above and beyond when saying thanks, which led to this delivery in our Corstorphine office: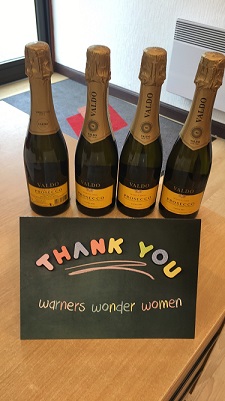 We are always looking for ways to improve our service though and really do value all feedback, good or bad, from our clients.
If you've used Warners lately we'd be delighted to hear from you so do please get in touch on 0131 667 0232 or by emailing property@warnersllp.com to let us know about your experience.