Warners Market Report: April 2017
The property market across Edinburgh and the Lothians was buoyant for sellers throughout 2016, however the first quarter of 2017 has seen demand heat up even further.
During the first quarter of the year, almost 80% of the properties sold through Warners have achieved a selling price that exceeded their Home Report valuation. That's up from 56% during the same period last year. By contrast, less than 10% of homes sold were bought for a price below their Home Report valuation during the first three months of 2017, well below the figure of 34% a year ago.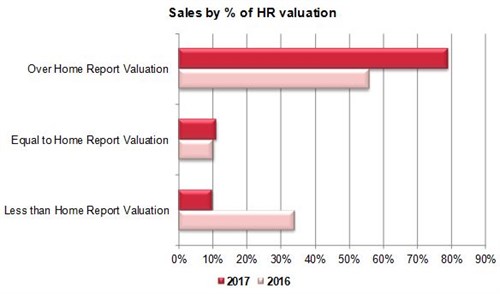 Buyer demand has risen continuously over the last two years, fuelled by a combination of low interest rates, greater mortgage availability and a generally improving economic picture. Added to this, a number of buyers who started to save for a deposit following the 'credit crunch' now have the funds that they need in place to secure a property.
With demand rising, we are seeing properties going under offer incredibly quickly. During the first quarter of 2017, properties sold by Warners spent an average of just 15 days on the market, down from 20 days in the first three months in 2016.
Excess of Demand Over Supply Pushing House Prices Up
Unsurprisingly, as demand is exceeding supply by some distance, this has exerted an upwards pressure on house prices across Edinburgh and the Lothians. In Edinburgh itself, latest figures from ESPC show that the average house price rose by 6.0% annually to £234,571 during the first quarter of the year.
In East Lothian the rate of growth was even faster at 9.5%, bringing the average house price in the area to £216,542. Although other areas of the Lothians saw more modest increases, prices in both West Lothian and Midothian also inched upwards by 3.0% and 1.1% respectively.
It's important to note of course, that whether rising house prices are a good thing very much depends on your own circumstances. For first-time buyers there is little to cheer about as the highly competitive market we are in makes it incredibly difficult to get onto the property ladder.
For most homeowners house prices are relative. If the value of your current property increases, the value of the next home you will be looking to buy will also have increased. If you are looking to move up the ladder that probably won't be good news as the difference in value between your current home and your new one may well have increased.
If you take the simple example of someone looking to move from a £150,000 property into one valued at approximately £200,000. If, for instance, prices increase by 10% across the board, the value of the £150,000 property will rise by £15,000 while the value of the £200,000 will have risen by £20,000. That means that the person looking to upsize will require an extra £5,000 to fund their move.
Conversely of course, anyone looking to downsize will be likely to benefit from the current market conditions. Investors also stand to benefit for obvious reasons. Not only are the value of the properties themselves rising, but rents are also increasing meaning that investors are gaining from both capital growth and improved rental yields.
Signs of an Upturn in Supply
As we have reported previously, at Warners we are starting to see signs of an increase in the number of homes coming onto the market. During the first couple of months of the year the number of properties that we brought to the market was up by 10% annually, and in March the rate at which supply improved rose further to almost 20% on an annual basis.
An improvement in supply will certainly help to ease the pressure on buyers somewhat, but at this stage we still expect it to remain a sellers market throughout the remainder of 2017.
If you are thinking of buying or selling a home in 2017, do feel free to give us a call on 0131 667 0232 and we'll be delighted to help. If you are a first-time buyer, we'd also recommend entering ESPC's First Time Buyer competition. It only takes a few seconds to enter and you can win £5,000 towards your deposit which can be a huge help in such a competitive market.
< Back