Warners Market report: March 2017
Demand for property in Edinburgh and the Lothians, which was already brisk throughout 2017, has accelerated in the first two months of 2017 bringing selling times to some of the quickest that the local market has seen.
Throughout January and February, the median selling time recorded by Warners stood at just 14 days. That's almost two weeks quicker than the figure of 26 days recorded during the same period a year ago, reflecting the ever improving picture for house sellers.
The high level of buyer demand has naturally led to ever increasing competition for the properties that are on the market. This in turn means that buyers are having to submit higher offers to secure properties of interest, which in turn has led to the average premium being paid above Home Report valuation rising.
During the first two months of 2017, the average premium achieved by properties sold through Warners stood at 5.1%. This marks a substantial increase from an average of 1.9% a year ago. Almost 80% of the properties sold by Warners in 2017 have achieved a price in excess of the Home Report valuation. During the same period a year ago just 47% of homes sold achieved their Home Report valuation.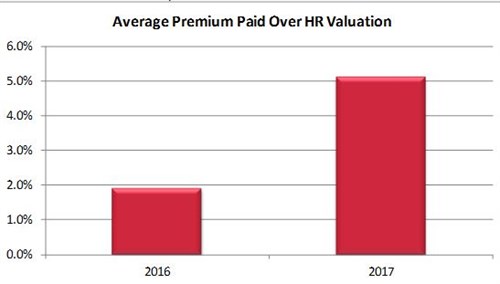 The strong sellers market we are seeing just now has been partly fuelled by a shortage of properties coming onto the market. At the turn of the year, we noted that there have been some signs, albeit tentative ones, that the supply of homes for sale may be set to improve in the months ahead.
So far, this has been the case and at Warners we have found that a number of sellers who we went to see late in 2016 are now deciding to take the plunge and get their home onto the market. As a result, the number of homes we have brought to the market so far this year has risen by just over 10% annually.
Going forward, it will be important that this increase in supply continues. Whilst the excess of buyer demand we have seen over the last 18 months certainly benefits people when selling, the reality is that most of us tend to buy and sell at the same time. This means that while we may achieve a higher price for our existing property, we will probably find that when it comes time to buy, we'll have to pay more for the home we are moving into.
High demand and rising house prices will typically benefit investors, or those who are looking to downsize, but for first-time buyers or anyone wanting to move up the property ladder it can make things considerably more challenging.
As ever, if you're thinking of buying or selling, please don't hesitate to contact us on 0131 667 0232 or by emailing property@warnersllp.com.
< Back