Virtual Property Viewings - using innovative digital technology to sell homes
We are now into our second week of working from home since the Government announced the nationwide lockdown as a way to flatten the curve and combat the novel Covid-19 virus.  At Warners, it is our top-priority to ensure the health and safety of our clients, staff and their families, while continuing to provide the highest possible level of service. 
Over the last few weeks, Covid-19 has had a major impact on how we live, how we work and also, how we buy and sell property across Edinburgh, the Lothians and Fife.  Our teams have had to adapt to accommodate social distancing measures and we are developing creative ways to buy and sell properties now that in-person viewings are no longer available for our property sellers and interested buyers. 
By incorporating innovative digital technology, Warners are delighted that we are now able to offer Virtual Property Viewings.
Using FaceTime, WhatsApp and Zoom digital video calls, sellers with Warners can now show interested property buyers their homes by "walking them through" the property and answering any questions or queries the property buyer may have, as well as providing them with additional information about the property and/or the area, similar to if they were physically at the property for an in-person viewing. 
See our helpful guide on Virtual Property Viewings with Warners: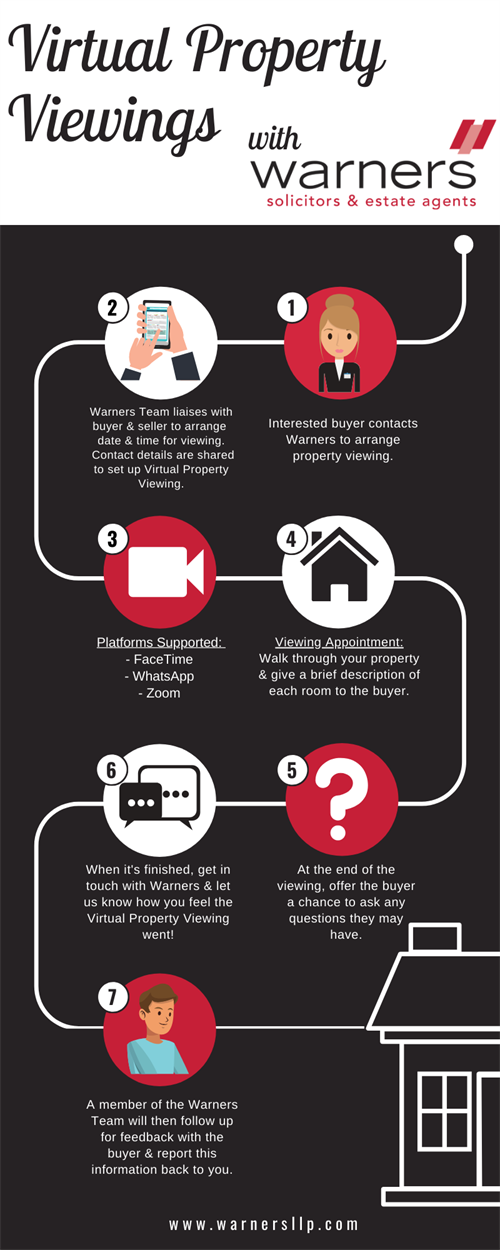 A member of the Warners Property Team will be on-hand to arrange the virtual property viewing with both the property seller and the property buyer and to coordinate which digital platform is best to use for the video call.
We will then follow up with both parties after the viewing, the same as we would an in-person viewing, to obtain feedback after the virtual property viewing and to answer any questions or queries the property buyer may have. 
Are you interested to arrange a Virtual Property Viewing but don't know which platform is best for you?  We have created helpful guides to download for you which give you instructions on how to set up a Virtual Property Viewing using FaceTime | WhatsApp | Zoom
Need further assistance? Give our office a call and we would be happy to help!
At Warners we are always looking for ways to improve the buying and selling process no matter what challenges may arise. In addition to Virtual Property Viewings, Warners can also offer 360 Virtual Video Tours, Virtual Property Valuations and Property Video Clips.
Follow us @WarnersProperty on Facebook | Instagram | Twitter or visit our website at www.warnersllp.com to keep up to date with the latest property news and to see all of our available homes for sale. 
To arrange a Virtual Property Viewing for one of our available properties for sale or to discuss your purchase requirements further, get in touch on 0131 662 4747 or by emailing property@warnersllp.com and one of our team will be delighted to help.
< Back