3 of the Best Places to Live in West Lothian
West Lothian has proven to be an increasingly popular location with home buyers. Not only is it well situated to commute to either Edinburgh or Glasgow, but it offers a fantastic range of family homes whether you're looking for a modern property or something more traditional. The area also has some fabulous amenities, from historic sites like Linlithgow Palace to all of the shopping outlets and eateries at The Centre in Livingston.
We asked some of Warners' market-leading estate agency team where their ideal place to live would be in the area.
Linlithgow
Michael Knowles puts his marketing and design skills to good use in his role as Property Sales Executive with Warners, and one day he would love to live in the picturesque town of Linlithgow. 
The historic Linlithgow Palace is of course one of the town's main attractions, and the beautiful walks available through the countryside and past Linlithgow Loch also make the town especially appealing for Michael. Other attractions include Union Canal and Beecraigs Country Park, and on top of all of that the town offers excellent rail and road links to both Glasgow and Edinburgh.
Livingston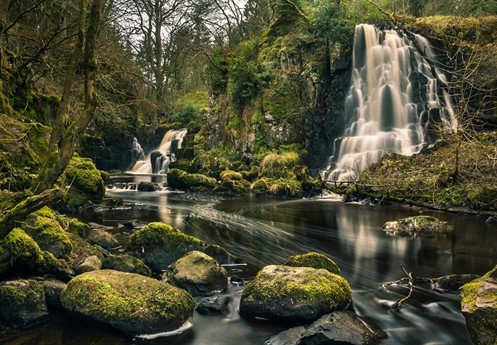 Caitlyn Meaney works within Warners' fast-paced New Business team, and she would love to live in one of Livingston's modern homes. The town's fantastic amenities, including the Designer Outlet and The Centre, are one of its main attractions for Caitlyn, along with the excellent public transport links to both Edinburgh and Glasgow.
In a perfect world Caitlyn would like to have a detached family home with sliding doors leading out to a south-facing garden where she could enjoy the summer weather, for as long as it lasts anyway. Over the last 12 months the average selling price of 4 bedroom home in the town was just £315,625, well below the average price of a similar property in Edinburgh of £535,757.
In addition to offering the fantastic amenities that you would expect of a new town, there are some beautiful nearby walks, including Linn Jaw Falls (pictured) and Binny Craig.
East Calder
Louise Knowles, Corporate Sales Manager with Warners, is in the incredibly fortunate position of already living in her dream location of East Calder. 
She loves how family-friendly the town is and the fact that it has an almost 'country living' feel while still being within easy reach of Edinburgh's city centre. In an ideal world she'd love to live in one of the town's farmhouses where she could relax with a cup of coffee or a glass of wine and look out over the fields.
If you have a question about selling or buying a property, get in touch with Warners today on 0131 662 4747, or by email at property@warnersllp.com and one of our team will be delighted to help.
You may also be interested in:
 Top Five Places to Live in Edinburgh
Properties of the Month - October 2023
< Back