What Should You Bid When A Property Is Marketed At Offers Over?
Note: This article was originally published in May 2018. You can read the most recent update on how much properties are selling for relative to Home Report valuation here
Last autumn we looked at the age old question in the Scottish property market of how much you should bid for a property that is marketed at Offers Over. Knowing how much to offer and the factors to consider when making this decision is vital for anyone looking to buy a property in Scotland. It will increase the likelihood of you being able to secure your next home while reducing the probability that you will pay over the odds to do so.
One of the major factors that you will need to consider of course is local market conditions at the time that you are looking to purchase a property. These conditions have changed somewhat since we originally wrote this article so we thought it would be useful to provide an update based on all the latest facts and figures from the property market in Edinburgh and the Lothians.
What's Happening In The Property Market In Edinburgh & The Lothians?
So far in 2018 there has been a shortage of properties for sale in Edinburgh and the Lothians. At the same time, demand for property in the area has intensified meaning that it is very much a seller's market just now. Ironically, one of the most common reasons that potential sellers will give for delaying putting their property on the market is that they have been unable to find a place that they want to buy creating something of a vicious circle.
The properties that are on the market are often attracting a high level of interest allowing sellers to set closing dates and achieve offers above the Home Report valuation. Buyers will often find themselves missing out on several properties which can encourage them to submit a higher offer to ultimately secure a home, pushing premiums up further.
Latest Figures
When we previously looked at how much you should offer for a property marketed at Offers Over we noted that the Home Report valuation generally provided a more useful starting point than the asking price of the property.
During the first quarter of 2018, properties sold at Offers Over by Warners have achieved an average of 7.8% above their Home Report valuation. That means that if a property has a valuation of £200,000 you could expect that, on average, it would ultimately sell for £215,600.
There is a lot of variance around this 'average' figure however. For practical purposes, it is useful to see how sales break down into different brackets. The chart below lets you see the volume of sales during the first three months of 2018 broken down by the percentage of Home Report valuation that was achieved.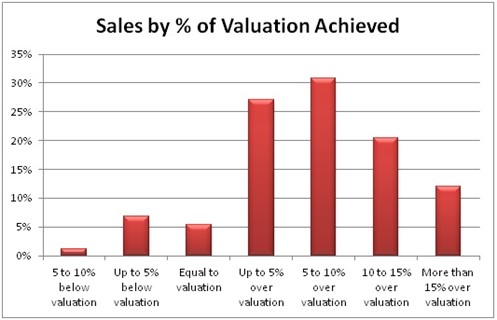 There are a few notes to take away from this. Firstly, despite the fact that we are currently in the strongest seller's market that we have seen for a decade there are some properties being sold for equal to or less than the valuation. Just over 5% of homes sold during the first three months of the year achieved a value that is equal to the valuation with a further 8% sold for less than the valuation figure.
The second thing to note is that while properties will most commonly sell for between 5 and 10% above the valuation figure, there is a large amount of variance around that figure. More than one in 10 properties will sell for over 15% above the valuation, while a quarter will attract a premium of less than 5%.
Approach Each Property Differently
What all of this means is that there is clearly a danger to just using the average premium of 7.8% when you are deciding how much to bid for a property. There are a number of other factors that you will need to consider including the length of time that the property has spent on the market, the level of interest from other buyers, the condition of the property, and the demand for the type of property you are looking for in the specific area you are looking at.
The final factor that should not be overlooked is that your own circumstances will impact what the correct amount to offer is. If you are limited to looking for properties within a specific location and family homes rarely come up for sale in the area then you may be willing to pay a high premium to secure the property when one comes up that meets your needs. Alternatively, if you are relatively unrestricted in terms of the area that you are looking in and are happy to consider properties that fit some basic, broad criteria then you can look to offer a less, safe in the knowledge that another home that would be suitable for you is likely to come onto the market soon.
If you are thinking of buying a property and need any help or advice our expert team will be delighted to help. We won't charge you to note interest in properties or for unsuccessful offers and we'll be happy to help you every step of the way towards finding your new home, so get in touch today on 0131 667 0232, or by emailing property@warnersllp.com.
You may also be interested in -
How Much Should You Bid For a Property at Fixed Price?
What is the Difference Between Offers Over, Offers Around and Fixed Price?
< Back