How Much More Than Valuation Are Properties Selling For?
One of the most common questions we get from those looking to buy a property in Edinburgh and the Lothians is "how much over the Home Report valuation are properties selling for?". The short and honest, if not entirely helpful, answer is, "it depends".
In any market you will find that there is a significant variance in the premiums being paid over valuation. For example, at the time of writing the market strongly favours sellers and, looking at Warners' property sales in the three months to May 2022, the average premium paid over Home Report valuation was 10.2%. Simply relying on this average figure when deciding how much to bid for a given property would be a mistake, however. Almost one in ten properties have sold during this period achieved a premium in excess of 20% whilst, at the other end of the scale, a little under 3% of properties were actually secured for less than valuation figure.
To put yourself in the best position to secure your next home without paying over the odds, there are a number of factors that you will have to consider. Here, we look at the most important things you will need to consider and how they will affect your bid.
How long has the property been on the market?
Properties attract the most interest when they first go live on the market. This is when they are sent out via email alerts to active buyers, and when they appear at the top of search results on major property sites such as espc.com. From most sellers' perspectives the ideal scenario is to be able to set a closing date a week or two after going on the market, at which point buyers will be motivated to come forward with their best offer. As properties spend longer on the market, buyers' interest, and thus the chance of achieving a higher price, starts to decrease.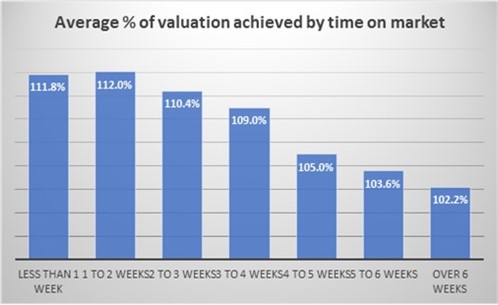 (Source: sales recorded by Warners from Mar-May 2022)
Competition from Other Buyers
One of the most significant factors that should be considered when deciding how much to bid is the level of competing interest from other buyers. As a buyer, your solicitor estate agent should contact the selling agent to find out how many notes of interest there are in the property. Those who have noted interest are not obligated to offer, and equally there is a good chance that offers will be received from parties who have not noted. Nonetheless, the number of notes of interest is a strong indicator of the level of demand for the property that you are interested in and is invaluable when deciding how much to offer.
Local Market Conditions and Recent Sales
In any market you will find that there can be significant differences in demand depending on the precise location of the property and the type of property that is being sold. At time of writing, larger family homes are typically achieving higher premiums than typically first-time buyer properties. In the three months to May the average premium over valuation that was paid to secure a four-bedroom house was 11.9%. During the same period, the average premium paid to secure a one-bedroom flat was 6.7%.
Again, your solicitor should be able to provide you with details of all of the most recent, relevant sales including the valuation originally placed on the property, the time it spent on the market, and the price that it ultimately sold for.
Your Own Circumstances
One factor that is perhaps surprisingly overlooked when deciding how much you should bid for a property is your own circumstances. If you are not facing any time pressure to move and you are finding that there are a good number of homes for sale that fit your criteria, you generally should not need to bid quite as much for a given property. Conversely, if you need to move by a specific date – perhaps due to work or family circumstances – and the supply of suitable homes is low, it would be sensible to bid more than would otherwise be the case.
Your own position in the selling chain is also of significant importance. If your offer is conditional upon the sale of your own property, then your offer will be less attractive than one from a buyer who is chain-free. Consequently, you are likely to have to bid more if you are planning to have an offer accepted on your new home before selling your existing property.
Further Information
If you're thinking of buying a property and would like more information or advice, please contact Warners today on 0131 662 4747 or by email at property@warnersllp.com. Our dedicated Purchase Team will be happy to answer any questions that you have about the buying process, properties of interest and the market in general, and we won't charge you a penny until after you have an offer accepted.
 You may also be interested in -
How Much Should You Bid For a Property at Fixed Price?
< Back