Warners Monthly House Price Report: May 2018
Throughout 2017 the property market in Edinburgh was characterised by a shortage of supply relative to demand. As a result, there were often multiple buyers competing for the properties that were on the market. Most properties sold quickly and achieved selling prices that were often well in excess of the Home Report valuation.
Looking through the latest property sales data at Warners this pattern has continued in the early part of 2018. For properties sold between February and April this year the median selling time stood at just 15 days. That's right in line with the median selling time recorded during the same period in 2017.
Towards the upper end of the market the average time that a property spends on the market can be a little longer, primarily because the number of potential buyers is more limited. Even here though, because such properties seldom become available buyers are typically very quick to act when they see a property that meets their needs come onto the market.
Average Premiums Still High Despite Recent Dip
Whilst it is still very much a seller's market in Edinburgh and the Lothians, there may be a small chink of light for buyers when we look at the average premiums being paid over the Home Report valuation in order to secure properties.
In the three months to end April, the average premium paid to secure a property this year stood at 6.5%. During the same three month period last year that figure stood at 7.3%. It's important to put these figures in context however. As the chart below illustrates, the average premium recorded this year is still way ahead what could be considered historic norms. Between February and April 2016 the average premium was 3.3%, for example, and in 2015 the corresponding figure was just 2.2%.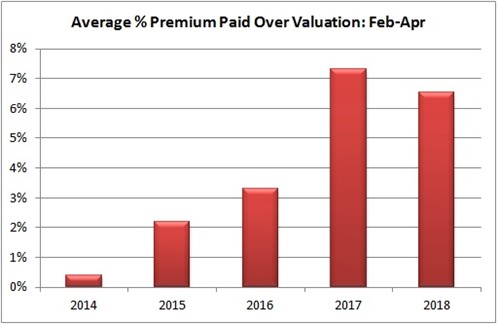 As we have noted before, the fact that substantial premiums are being paid to secure properties makes life difficult for many buyers, in particular those who are looking to purchase their first home. Mortgage lenders are typically only willing to provide lending up to the valuation of a property. What this means in practise is that if you want to bid more than the valuation of a property, you will need to have this money available in addition to the deposit for your mortgage.
David Marshall, Operations Director with Warners explained: "Take the example of a one-bedroom flat in Abbeyhill and Meadowbank, areas that are typically popular with first-time buyers. Latest ESPC figures show that the average selling price of this type of property stands at £150,169.
"The average premium paid over the Home Report valuation stands at 6.5% which means that, on average, you would need to have an extra £9,761 on hand in addition to your deposit if you wanted to secure the property. For most first-time buyers that simply isn't achievable.
"Overall, the biggest problem that the market faces is that there is a limited supply of properties coming onto the market. In many cases sellers are unwilling to put their property onto the market until they find somewhere that they wish to buy but this can create something of a vicious circle with few new properties being put up for sale.
"Over time you would expect that, due to rising selling prices and quick selling times, more sellers will be tempted to take the plunge and put their own home on the market. In the short-term however the likelihood is that the balance of power will continue to favour sellers for much of 2018."
If you are thinking of buying or selling a property in Edinburgh, the Lothians or Fife, get in touch today on 0131 667 0232 or by emailing property@warnersllp.com and one of our team will be delighted to help.
< Back