Warners Property Market Report - February 2019
It's been a record-breaking start to the year in the local property market as sellers continue to show few signs of being deterred by the prospect of Brexit. Warners listed 99 properties for sale in Edinburgh and the Lothians in January. That represented an annual increase of almost 40% compared to the first month of 2018 and was the highest number recorded by the firm in January since the onset of the credit crunch over ten years ago.
Buyer activity has also risen over the last year. During the month of January Warners recorded 78 sales – an increase of 70% annually. Again, this marked the highest level recorded by the firm in more than ten years.
Commenting on the results David Marshall, Operations Director with Warners, said: "It's been a really brisk start to the year for the property market with a substantial upturn in both the number of homes coming onto the market and the number of sales being agreed.
"One of the pleasing things that we have seen recently - and this has been the case since the middle of 2018 – is that there has been a steady improvement in the number of homes coming onto the market. Throughout 2017 and into the first half of 2018 there was an acute shortage of homes for sale in Edinburgh and the Lothians. As a result, conditions were incredibly difficult for homebuyers who often found themselves having to pay large premiums over Home Report valuation to secure a property.
"The rise in new listings has meant that there is a more even balance between supply and demand leading to a healthier marketplace."
With the number of homes available for sale higher than it has been in recent years, conditions have become a more favourable for buyers than they were at the beginning of 2018 despite an increase in demand in January.
Most properties are still selling relatively quickly and achieving offers above their Home Report valuation, but the premiums that buyers are having to pay are lower than they were a year ago.
During January properties sold by Warners achieved an average of 3.1% over the Home Report valuation. That was down from 7.5% in January 2018 and back in line with the figure recorded during the first month of 2017.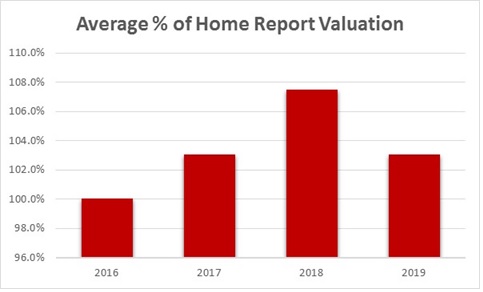 David Marshall continued: "It's still a good market for sellers but there is no question that conditions have improved for buyers over the last six or seven months. The premiums that buyers are back at 2013 levels and house price inflation has started to ease towards levels that would be more sustainable over the longer term.
"The ongoing negotiations around Brexit will naturally present the biggest downside risk to the housing market as we move forward in 2019. There is still little clarity in terms of how these negotiations will be resolved and if this uncertainty were to be prolonged, it is possible that some people may opt to delay moving home which could lead to a short-term dip in activity.
"So far though there have been no signs of this being the case with sellers and buyers coming out in droves early in the year."
If you are thinking about moving home this year or if you have a question about buying or selling, get in touch with Warners today on 0131 667 0232 or at property@warnersllp.com and one of our team will be delighted to help.
< Back