Property Market Report: February 2018
The first month of 2018 is already in the rear-view mirror and the property market has got off to a flying start across East Central Scotland. The premiums being paid to secure properties for sale in Edinburgh and the Lothians are higher than they were a year ago and properties are again selling quickly.
During the three months from November 2017 to January 2018, properties in Edinburgh and the Lothians achieved an average premium of 5.5% above their Home Report valuation. That's up from an average of 2.9% during the same three month period a year ago.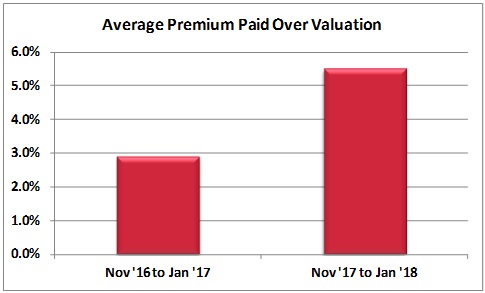 Almost four out of five (78.6%) homes sold during the three months to January achieved a selling price in excess of their Home Report valuation. That's a marked increase from just over a half (55.6%) of those sold during the same period last year.
As we have noted previously, the fact that so many properties are selling for more than their valuation is great news for sellers but it creates clear problems for first-time buyers and those looking to move up the property ladder. With the average premium being paid to secure properties at 5.5% over valuation, this means that if you wanted to buy a home valued at £150,000 then you would need an average of £8,250 on hand, in addition to your deposit, to secure the property.
Supply of Properties Continuing to Improve
The light at the end of the tunnel for buyers is that the number of homes coming onto the market has been rising in recent months. Over the last three months, the number of properties brought to the market by Warners has risen by 33% annually.
This is of particular importance because a great deal of the house price growth that we have seen over the last 18 months has been driven by an excess of demand over supply. The improvement in supply that we are now seeing will help to alleviate the pressure on buyers and bring greater balance to the market.
Demand from buyers may also be tempered in coming months with the Bank of England's Monetary Policy Committee now expected to raise interest rates sooner and more quickly than had previously been anticipated.
Moving forward in 2018 we expect that the market will still be buoyant, but with the higher premiums that we saw during 2017 becoming less prevalent as the year progresses. This should help to keep house price growth in the local market broadly in line with CPI inflation at between 2 and 3%.
If you need advice on buying or selling a property or if you have a question about the local market, get in touch today on 0131 667 0232 or by emailing property@warnersllp.com and one of Warners' experts will be delighted to help.
< Back