Warners Monthly Market Report: November 2017
Property sellers have continued to find conditions in the local property market very much in their favour as 2017 draws to a close. Over the last three months, houses and flats for sale in Edinburgh and the Lothians have typically sold quickly and achieved offers in excess of their Home Report valuation as demand for property has outstripped supply.
Throughout 2017 house price inflation in Scotland's capital has exceeded that seen across much of the UK. Based on latest figures from the Office of National Statistics (ONS), the average house price in Edinburgh rose by 10.4% annually during August, more than double the UK-wide increase of 5.0%. Indeed other major cities such as London and Aberdeen actually saw house prices decline during that same period.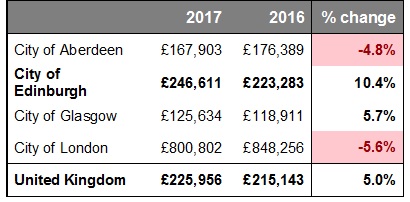 One of the best indicators of the strength of the Edinburgh market this year is the prices that properties are achieving relative to their Home Report valuation. During 2016 properties sold through Warners were generally achieving an average of between 2 and 3% above their Home Report valuation. This was slightly above the levels we saw in both 2014 and 2015.
This year the average premium that properties are achieving over and above the Home Report valuation has jumped substantially, hovering between 6 and 7% for most of 2017. Most recently, in the three months to the end of October, properties sold by Warners were achieving an average of 6.6% above their valuation.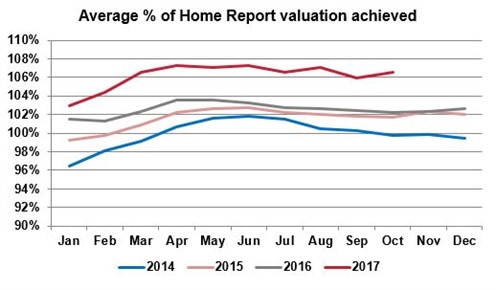 The main reason that the market has been so strong for sellers is that there simply are not many properties available on the market. At the same time, buyer demand in and around Edinburgh has grown due to a number of factors. First-time buyers have had time to save the deposits that they need to secure mortgage funding. Investors have been attracted to the market by a combination of low interest rates and high local rental yields. Additionally, areas like Portobello have proven to be especially popular with buyers relocating from London, for whom local property prices are much cheaper than they are accustomed to.
Interest Rate Rise Unlikely to Dampen Demand
November has already seen the first Interest Rate rise in over a decade but it is highly unlikely that this will have a significant impact on the property market in Edinburgh and the Lothians. For a start, the increase had been anticipated for a couple of months and many lenders had begun to factor an increase into their mortgage rates.
The Bank Rate only rose by 0.25% to 0.5% - a rate that is still astonishingly low by historic standards – meaning that the cost of borrowing is still very low. Given that rents in Edinburgh are rising and well above those seen in other cities in Scotland, investors will not be deterred by what is a relatively small increase.
Market Likely to be Robust in 2018 Despite Headwinds
Looking further ahead there are potential headwinds which would help to moderate price growth and bring more balance to the housing market in Edinburgh and the Lothians. In the first instance, the very fact that the market has been so favourable to sellers will convince more people who had been delaying selling to get their home onto the market. As more homes become available the balance between supply and demand will get closer to equilibrium.
We are also likely to see an element of rent controls introduced to Edinburgh in the form of Rent Pressure Zones. These could serve to dampen demand from investors although, as we have noted before, the reality is that the measures proposed will not impact rents for advertised properties which is where larger rental increases tend to be observed.
Finally, it would be remiss not to mention the fact that 'Brexit' is looming ever larger on the horizon. Negotiations over the UK's departure from the EU will start to dominate headlines as the year progresses, and details of these negotiations will become more crystalised. Depending on how talks progress, we could see a negative impact on market sentiment and this could also serve to cool demand as we head into the second half of the year.
In light of all of this, it is reasonable to assume that people selling a home in Edinburgh and the Lothians will find the market less favourable than sellers this year, but it's important to keep things in perspective. A market where house prices are rising by 10% annually and properties are selling for an average of 7% above is simply not sustainable over longer timeframes and ultimately it would only lead to first time buyers being priced out of the market.
In 2018 we would expect to see house price inflation come back to more manageable levels – likely between 2 and 3% - as we get closer to equilibrium been supply and demand. This will help to ease the pressure that many first-time buyers have felt in 2017 and ultimately will be to the benefit of the market as a whole over the longer run.
If you are thinking of moving home and have any questions about buying or selling, get in touch today on 0131 667 0232 or by emailing property@warnersllp.com and one of our team will be delighted to help.
< Back