Warners Housing Market Report: November 2018
As we head towards the end of 2018 there has been more good news for property buyers in Edinburgh and the Lothians. The number of homes being brought to the market has improved, increasing the number of properties for sale in Edinburgh and the Lothians and giving buyers greater choice.
In the three months from August to October, Warners brought 242 properties to the market for sale. That marks a 25% increase from the 194 properties listed during the same period last year. Although the number of homes sold also rose annually, the rate of growth was slower at 15%.

With the supply of properties to the market rising more quickly than demand the pressure on buyers has eased, improving their negotiating position.
Commenting on the results David Marshall, Operations Director with Warners explained: "For most of last year and throughout the first half of 2018 there was a shortage of homes for sale across Edinburgh and the Lothians. That created a situation where there was a huge excess of demand relative to supply meaning that buyers were often having to pay substantial premiums above valuation to secure a home. This naturally pushed house prices up and earlier in the year annual inflation in the Capital was close to 9%.
"Thankfully, since the end of the summer we have seen more sellers willing to take the plunge and get their home onto the market. This has helped to create a greater balance in the local market and, while most properties are still selling well, the high premiums that we were previously seeing are becoming less prevalent."
Based on sales recorded during the three months to October 2018 the average premium paid over valuation was 5.2%. That marks a decrease from 6.6 % during the same period in 2017 and reverses a trend which had seen the average premium rise each year since 2014.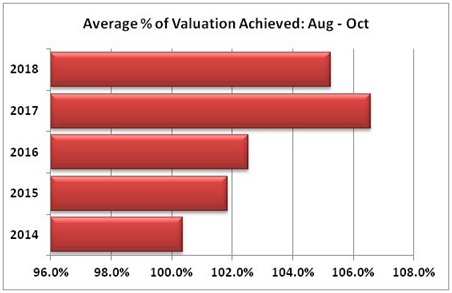 Marshall continued: "The reduction in the average premiums is good news for the long-term health of the market as you would not want to see house prices rising at an unsustainable rate for a prolonged period. We have already seen house price inflation start to ease - down from 9% earlier in the year to 6%.
"As we head into 2019 we expect to see inflation continue to ease. Supply side activity should rise further whilst uncertainty over Brexit may constrain growth in demand during the first quarter of the year.
"The market will continue to be bolstered by low unemployment levels and interest rates should remain low by historical standards throughout the year. As a result we expect house prices in Edinburgh and the Lothians to rise by 1-2% annually over the course of 2019."
If you're thinking of buying or selling a property in Edinburgh and need help or advice, get in touch with Warners today on 0131 667 0232 or by emailing property@warnersllp.com and one of our team will be happy to help.
< Back