Warners Market Report: November 2016
Property sellers in Edinburgh and the Lothians are continuing to benefit from the strongest sellers' market for almost a decade as 2016 draws to a close. Throughout the year, sellers have held the upper-hand in the market with most properties selling in a matter of just three or four weeks and achieving selling prices that exceed their Home Report valuation.
Latest figures from ESPC revealed that in the three months to October, the average house price across East Central Scotland rose by 5.0% annually. Within Edinburgh itself the average house price increased by 5.2% from £223,666 last year to £235,289 today.
At Warners, three out of four properties we have sold during the last three months achieved a price that was at least equal to the original Home Report valuation, with most of these achieving a price in excess of the valuation.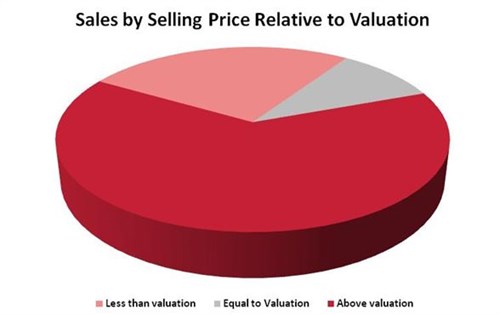 Although demand remains high, the number of properties that are actually changing hands has declined as there are simply less properties coming onto the market. This excess of demand over supply has been what has driven the favourable conditions that sellers have enjoyed. Many would be sellers are now waiting until they find a property that they wish to buy, making an offer subject to the sale of their current property and then putting their home on the market.
Investor Demand Still Strong
In April this year, the Scottish Government announced an additional 3% tax surplus on purchases of second (or third, or fourth) homes. This mirrored a similar move made by Westminster south of the Border. At the time it had been feared in some quarters that the new tax would dampen demand from landlords and investors, but the evidence to date has been that this is not the case. 
There was a rush of purchases from investors prior to the introduction of the tax surplus and this was followed by a similar drop in activity immediately after the tax came into place. Since then, however, demand from investors has risen again. In addition to capital growth stemming from rising house prices, rental yields are on the rise. The latest report from Citylets revealed that average rents in the Capital exceeded £1000pm for the first time on record. Great news for landlords, but concerning for tenants, many of whom are struggling to save deposits to get onto the property ladder themselves.
Scottish Government Targets Better Enforcement of Landlord Regulation
With the rental market offering strong returns for current and potential investors, it is perhaps timely that the Scottish Government announced plans to encourage better enforcement of laws and regulations in the Private Rented Sector. It is already necessary for landlords in the sector to apply and be accepted to a public register maintained by the relevant local authority, but concerns have been expressed by both the Scottish Government and the Scottish Association of Landlords (SAL) that some rogue landlords are failing to do so.
Commenting on the renewed focus on landlord regulation Andrew Whitmey, Director with one of Edinburgh's leading letting agents, Umega Lettings, said: "Legislation surrounding lettings has changed so rapidly over the past two years and up until now there has been very little enforcement of these new laws. In order for safety standards in rental properties to improve across the sector The Scottish Government and local authorities need to make sure any legislation has 'teeth'."
The issue of legislation not being met is particularly prominent for the 170,000 tenancies managed by independent landlords which make up half of the private rental market in Scotland. These landlords, who chose not to use letting agents, do not wish to be tarred with the 'rogue landlord' brush but are finding themselves in breach of regulations due to a lack of clarity of what is required of them.  Renewed efforts by the Scottish Government and by local authorities will most certainly be welcomed amongst this independent landlord base who see themselves as 'good' landlords and wish to remain on the right side of the law.
Whitmey continues, "During the course of 2016 we've carried out extensive research on the independent landlord market and have found that over 90% of independent landlords who deem themselves to be 'good' landlords are, in fact in breach of regulations.  To help these independent landlords navigate the minefield of lettings legislation we've developed www.landlordOK.com This is a free-to-use website where landlords can check their knowledge against the 8 areas of legal compliance; 4 relating to property safety and 4 to tenancy administration. In two minutes landlords can find out what these are and check where they meet regulations and where they fall short."
"With tools like www.landlordOK.com to help independent landlords' better understand legislation and with renewed efforts by The Scottish Government to curb the activities of rogue landlords, one would hope standards will improve across the 340,000 private rented tenancies in Scotland."
< Back