Warners Market Report - July 2017
Despite the weather's best efforts to convince us otherwise, we are now past the midway point of 2017 and into the summer months. While there is no question that activity in the property market has cooled in recent weeks as many buyers and sellers head off on their holidays, the number of homes being bought and sold has remained well above levels seen at this time last year.
During the second quarter of the year Warners recorded in excess of 230 property sales, an increase of over 30% on the number sold during the same period in 2016. House prices have also increased with the average price of a property sold through Warners rising from £204,033 a between April and June 2016, to £218,708 this year.
As has consistently been the case over the last two years, one of the most significant factors that has pushed prices upwards has been a shortage of properties coming onto the market. This has meant that demand has consistently exceeded supply allowing most sellers to achieve offers in excess of their property's Home Report valuation.
In the second quarter of this year a little over 81% of homes sold by Warners exceeded their valuation. That's up from 63% a year ago, and 60% in 2015.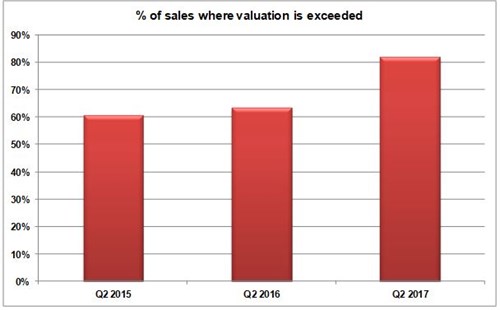 Keeping Things in Perspective
While the results we are seeing make happy reading for sellers, it is important to keep things in perspective. In a seller's market there is a temptation among sellers to think that their property will sell quickly and achieve a great price and while for many people that will be true this is not the case for everyone, even in the most buoyant of markets.
Firstly, while it is clearly true that the majority of sellers are achieving a price in excess of their valuation figure, there are still one in five properties being bought at or below Home Report valuation.
Perhaps more importantly, sellers will often only hear anecdotal evidence of the most successful recent sales in their area. People tend to be much happier to tell others how much their house sold for if they achieved a great price. As a result, the person who sells their home in two days for £100,000 over valuation will be understandably over the moon and delighted to tell everyone how well things went. The person who simply achieves their valuation after spending a few weeks on the market is less likely to broadcast this news, if for no other reason than it makes a less exciting story.
The reality is that even in today's market, cases where properties achieve a huge premium over the valuation are still in the minority. One in three homes sold during the second quarter of the year achieved a selling price that was 10% or more above valuation, with just one in 20 going for more than 20% above the valuation figure.
All of this is not to say that the market for sellers is not strong but there is a danger that during an upturn, sellers will be encouraged to have unrealistic expectations. There are some agents who will happily fuel these expectations to encourage sellers to list their properties with them. If you're thinking of moving though, it's important to get a true picture of what is actually happening as this will allow you to budget much more accurately for your sale and purchase.
Looking Ahead
Whilst it is always important to look back on the key facts and figures from the property market, as ever, the main question on many people's minds is, what will happen to house prices in Edinburgh and the Lothians in the months ahead?
At this stage it remains likely that overall conditions will continue to favour sellers, but we will continue to see a greater balance between supply and demand over the remainder of 2017. During the first half of the year, listings through Warners have risen by 24% annually and whilst this has not been sufficient to match demand, continued improvement in supply in the months ahead will go some way towards easing pressure on buyers.
Added to this, the prospect of an interest rate rise has risen in recent months. It has been 10 years since we last saw the Bank Rate go up, and almost a year since it was reduced to its current low of 0.25%. In something of a surprise however, last month saw three members of the eight-person Monetary Policy Committee (MPC) vote for rates to be increased. That's the highest number of members voting for a rise in rates since 2011.
Whilst any increase in the Bank Rate is likely to be small, it would nonetheless have an impact on purchasers' buying power, dampening demand somewhat. As a result we expect house price inflation to moderate, with prices rising by around 3% annually as we head towards the end of the year.
If you are thinking about buying or selling and have any questions, call Warners today on 0131 667 0232 and one of our expert team will be happy to help you.
< Back