Warners Property Market Report- October 2017
As we enter the final quarter of the year, latest figures from Warners Solicitors & Estate Agents show that properties for sale in Edinburgh in Edinburgh and the Lothians are still selling quickly and achieving prices in excess of their Home Report valuation.
During the three months to September, the median selling time for a property sold through Warners was 17 days. That's two days faster than the figure of 19 days during the same period in 2016, and over a week faster than the average of 27 days recorded in 2015.
The percentage of sales where properties achieved a price in excess of their Home Report has been rising in recent years and an annual increase was again observed between 2016 and 2017. 74.6% of homes sold during the third quarter of 2017 achieved a price in excess of their Home Report valuation. That's up from 65.0% in 2016 and 53.9% in 2015.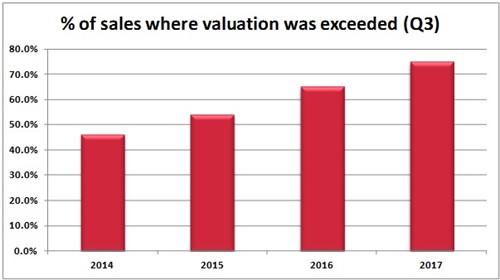 The rise in the number of property sales where the selling price exceeds the valuation has been driven by a shortage of homes for sale in Edinburgh and the Lothians. This, coupled with rising demand, has meant that there is more competition among buyers for the properties that are available on the market resulting in higher offers being required to secure a home.
David Marshall, Operations Director with Warners Solicitors and Estate Agents, explained: "For the past 18 months the Edinburgh property market has favoured sellers. The number of homes available for sale simply has not been sufficient to keep pace with demand and, as a result, buyers have to pay higher premiums if they want to secure a home that they are interested in.
"As we have repeatedly said, while this is great news for sellers, it makes things very difficult for first-time buyers or those looking to move up the property ladder. Lenders are generally only willing to lend up to the Home Report valuation. If you want to submit an offer that exceeds the valuation figure you will need to have the money on hand to do so. This means that if you want to submit an offer of £165,000 for a property with a Home Report valuation of £150,000 you would need to have £15,000 available in addition to your deposit.
"This means that many people have found that they are repeatedly being outbid at closing dates as they do not have the funds available to submit an offer above the level of the valuation. This is especially true for first-time buyers who will not have equity built up in an existing property to help fund their purchase."
There are some signs, however, that there could be good news on the horizon for buyers. In the first instance, More homes came onto the market during September this year than in 2016. Warners recorded an annual increase of over 22% in the number of new listings brought to the market last month.
Additionally, the average premium paid over the valuation figure during the third quarter of 2017 was lower than during the preceding quarter. In the third quarter of 2017 the average premium stood at 5.9%, down from 7.2% in the second quarter.
David Marshall explained: "The main factor that has made the market so strong for sellers recently has been the lack of properties coming onto the market. Inevitably however, this will only last for so long. As the market continues to perform well, people who have been putting off selling their home will be attracted back to the market which will help to alleviate this lack of supply.
"Last month there was an increase in the supply of homes coming onto the market and this can only be good news for the long-term health of the market as it will help to ensure that house price inflation does not reach unsustainable levels. It is important to keep things in perspective of course and the premiums being paid above valuation are still higher than they have been in previous years.
"That said, we do expect there to be a more equitable balance between supply and demand as we head into the new year and this will help to ease pressure on buyers in 2018."
If you are thinking of buying or selling a property, or if you have a question about the local property market, feel free to get in touch today at property@warnersllp.com or by calling 0131 667 0232 and one of our expert team will be delighted to help.
< Back