The Great British Bake Off effect. Does your kitchen rise to the challenge?
It's becoming as well proven as one of Paul Hollywood's famous breads - having a showstopper kitchen can be the recipe for success when selling your home.
Incredibly successful baking programme the Great British Bake Off has become a national phenomenon, with more than 11.22 million viewers tuning in to watch the first episode of the newest series. The show has inspired a new generation of amateur bakers all dreaming of using their own kitchen to create offerings to rival those that they have seen on television.
In the run-up to the latest Bake Off season, sales of cooking appliances from KitchenAids to aprons were said to have rocketed as people race to buy kit fit for a star baker. And, of course, the smell of freshly baked bread is well known as a smart trick to lure in potential buyers – cemented by the fact that it has been voted top in a list of the nation's favourite smells.
But the effect goes further than the supermarket shelves. If you are looking to sell your home then having the right kitchen is becoming more important as it now features so high in many house-buyers' recipe for the perfect home.
Moving away from the pokey kitchens of the past, today's house buyers are instead swayed by large open-plan kitchens with modern appliances and, ideally, dining spaces which allow everyone in the household to come together.
The kitchen is increasingly seen as a family-centred environment and social space, with more of us taking to cooking and baking as a way to socialise and impress their house guests. In fact, it is reckoned that a modern kitchen could add between £5,000 and £50,000 to a property's overall market value.
One home Warners are marketing that certainly fits the bill is Brae House in Greenfield Park, Musselburgh. A detached villa, there is plenty of space throughout; however the kitchen is where it really opens up.
With an island breakfast bar and a fully fitted kitchen, it's easy to see a baking feast being crafted up in this home – perfect for entertaining and keeping up with the recipes from the hit show.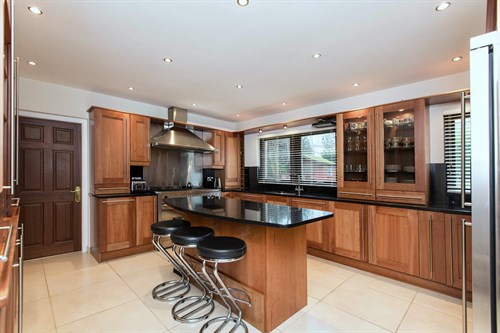 Even in a market as buoyant as the one we're in just now, having something which really sets your property apart from the competition delivers great returns for sellers. So, being able to offer a fantastic kitchen - giving people the chance to live the Bake Off dream - is a sure way to catch the eye of potential buyers and add value to your home.
If you're thinking of selling your home, get in touch with us today on 0131 667 0232, or by emailing property@warnersllp.com and one of our experienced team will be delighted to help you every step of the way.
< Back