Property Market Spotlight on Musselburgh
Since the start 2020, high demand in the local property market has pushed the average house price in Edinburgh up by 20%. As a result, an increasing number of buyers have started to look outwith the city where it is possible to get more property for your money. One town that has proven particularly attractive to buyers is Musselburgh in East Lothian.
What has Made Musselburgh so Popular?
In many ways it's not hard to see the attraction of Musselburgh. The beach is within walking distance of most of the town and there are beautiful walks to enjoy along the River Esk. Fantastic local amenities include the racecourse, both Di Rollo and Luca's ice cream, and Musselburgh Sports Centre.
The town is also ideal for those looking to commute into Edinburgh. The city centre is just six miles' drive away, and the regular train service will typically have you at Waverley Station in under ten minutes.
Perhaps the most significant factor that has driven demand in Musselburgh however is the relative affordability of properties in the area, particularly for those looking for their first family home. For example, the average price of a two-bedroom house sold in Musselburgh was £215,714 – almost £60,000 less than the average selling price of a comparable property in the capital. When looking at three-bedroom properties the disparity was even greater, with the average selling price of £263,387 in Musselburgh more than £100,000 less than the average within Edinburgh.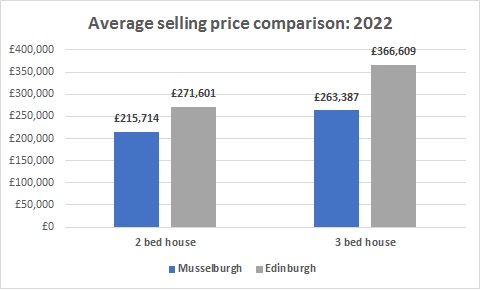 How demand impacted house prices in Musselburgh in 2022
With a rising number of buyers turning their attention to Musselburgh, this unsurprisingly served to push prices upwards in the town. Overall, the average house price in Musselburgh stood at £232,879 – an annual increase of 6.5%. That rate of house price growth is greater than that seen in Edinburgh of 5.8%, although the average house price in the city is still substantially higher at £302,516.
The level of demand for property in Musselburgh is also seen in other key market indicators. For example, the average premium paid over Home Report valuation to secure a property in Musselburgh was 7.8%, compared to 6.7% within Edinburgh. Similarly, properties in Musselburgh were more likely to go to a closing date, with 37.8% of sales going to closing in the town as compared to 34.3% of sales in Edinburgh.
Wrapping things up
It perhaps goes without saying that Edinburgh will remain an incredibly popular option for many buyers but as prices rise within the city, nearby towns, especially those with good commuter links, will continue to see strong demand. This will be especially true for those looking for a family home with an outdoor space, as finding affordable properties that fit the bill within Edinburgh as become increasingly challenging.
If you're interested in buying or selling a property, or if you have any queries about the market, get in touch with Warners today on 0131 662 4747, or by email at property@warnersllp.com, and one of our team will be delighted to help.
< Back