Edinburgh & Lothians House Price Report: February 2023
The property market in Edinburgh and the Lothians gathered momentum in February, with the premiums paid to secure a property rising and average selling times shortening. Latest figures from Warners Solicitors & Estate Agents, Edinburgh & Lothians leading agent for property sales, show that the average premium paid to secure a property rose from 1.9% in January 2023 to 4.6% during February. At the same time, the median selling time shortened from 49 days in the month of January to just 23 days last month.
The figures from Warners came on the back of similarly positive results released by ESPC last week. In their February Property Market Update, ESPC reported that in the three months to February the average house price in the Capital rose by 2.3% annually from £286,495 a year ago to £293,096. 
As has been the case throughout much of the last few years larger properties continue to attract the highest level of demand and this is reflected in the premiums over Home Report valuation that these properties achieve. In the three months to February, the average premium paid to secure a one-bedroom flat in Edinburgh was a modest 2.0%.  The average premium paid to secure a four-bedroom house was almost three times greater at 5.8%.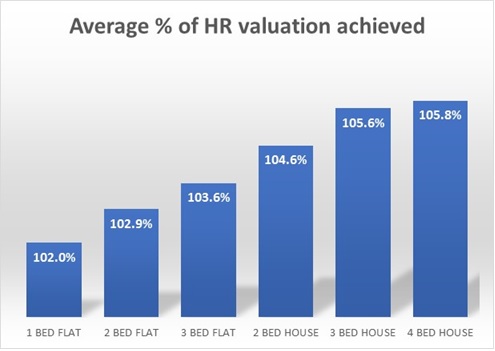 Commenting on the results David Marshall, Operations Director with Warners, said: "It would be reasonable to describe the level of market activity in January as steady, but there was a clear increase in buyer activity in February leading to an increase in the premiums that buyers needed to pay to secure a home.
"The events at the end of last year caused a large degree of uncertainty amongst buyers leading many to put their plans on hold, but more recently we have seen confidence improve and more sellers and buyers to go ahead with moving home.
"Thankfully, we have not seen a return to the situation that we saw in 2021 and early 2022 when there was a huge excess of demand over supply. At that stage the average premium needed to secure a home got close to 10%, and for family homes in popular areas it was not unusual to see premiums being paid of 20% or more. That imbalance between supply and demand is simply unsustainable over the longer term and creates significant problems for first-time buyers in particular. So while buyer activity has risen, it is positive that we have not returned to the unbalanced situation that we saw for around two years following the easing of lockdown restrictions."
If you're thinking of selling or buying a property in Edinburgh & the Lothians, get in touch with Warners today on 0131 662 4747, or by email at property@warnersllp.com. Alternatively click here to book your free property valuation.
< Back