Edinburgh Market Buoyant as London's High-End Declines
THE SCOTTISH capital's property market is showing no signs of following the sharp house price declines observed in some of London's most illustrious boroughs.
Recent figures from Rightmove show average asking prices dropping by more than £300,000 in Kensington and Chelsea between August and September, with the wider city witnessing an average fall of £18,000 in the space of a month.
Despite this, Edinburgh is continuing to buck nationwide trends, remaining stronger than it has been for a number of years, according to figures produced by Warners, one of the capital's leading estate agents.
With demand continuing to outstrip supply and properties spending less time on the market, Edinburgh is bucking trends seen elsewhere in the UK.
Latest figures from Warners Solicitors and Estate Agents show that the vast majority of properties are now achieving prices in excess of their home report valuation, with 76% of homes it sold between June and August selling for premiums above valuation. 
David Marshall, Operations Director at Warners Solicitors & Estate Agents, said: "At the start of 2015 properties in Edinburgh were selling for a little less than 1% above their valuation and, over the next two years, the average premium generally stood between 2 and 3%.
"Early in 2017 however, the average premium being paid to secure properties rose sharply and it now stands at over 7%. When we look at what that means in monetary terms the change is substantial.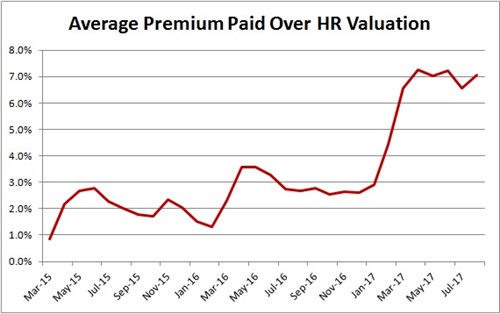 "For example during 2015 and 2016 the average premium paid on property valued at £200,000 would have been between £4,000 and £6,000. This year, that figure would stand at over £14,000."
The average house price in Edinburgh has unsurprisingly risen from last year, with homes sold through Warners in the three months to August achieving an average selling price of £210,577 - up from £208,804 last year.
In contrast, figures published by Rightmove this week have noted that the average asking price for properties in Greater London has plummeted by more than £20,000 over the past year to £610,912.
David added: "As yet, we have not seen events in London being reflected in Edinburgh. A lack of properties coming onto the market remains the biggest driver of house price inflation at present and as a result we expect conditions to remain favourable for sellers for the remainder of 2017.
"In the early months of 2018 we do expect to see more homes coming onto the market however and this will help to moderate house price growth and ease pressure on buyers in the new year."
Warners operates three property centres in Edinburgh and is one of the capital's leading estate agents for property transactions. 
If you are thinking of buying or selling, or if you have any questions about the market, feel free to contact us on 0131 667 0232 or by emailing property@warnersllp.com and one of our team will be delighted to help.
< Back