Edinburgh Property Market Report - October 2022
Against an increasingly turbulent economic backdrop the property market in Edinburgh and the Lothians continues to show remarkable resilience. Latest sales data from the local housing market show that house prices have continued to rise, with most properties that are selling achieving prices that are well above Home Report valuation.
Looking at latest figures from ESPC, the price of a home sold in Edinburgh during the three months to September stood at £317,997. That marks an increase of 9.6% annually. There was an even sharper rise in the average house price in Midlothian where an 11.6% increase brought the average house price in the area to £270,441, while a more modest 2.3% rise in East Lothian took the average selling price of a property to £296,337.
As has been the case throughout most of the last two years, properties that were sold during the third quarter of 2022 generally to achieved offers well in excess of their Home Report valuation. During the three months to the end of September, the average premium paid to secure a property in Edinburgh was 8.1% over valuation, up slightly from 7.9% the previous quarter.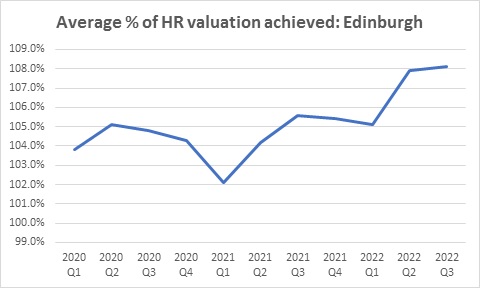 Larger Properties Attract Higher Demand
Drilling down on the data for property sales during the third quarter, it can be seen that the greatest demand was for larger properties. During this period, the average premium over valuation required to secure a four-bedroom house was 12.0%. By contrast, the average premium paid to secure a two-bedroom flat stood at a comparatively modest 6.7%. 
This is in line with trends seen over the last two years, with buyers putting a greater emphasis on larger properties - especially those with access to a garden or patio area - and being willing to sacrifice proximity to the city centre in order to secure such homes.
Early Signs of Market Cooling Despite Rising Prices
The latest figures paint a picture of a market where conditions remain very favourable for sellers. Properties are selling quickly and there is sufficient competition that sellers are achieving offers that are well in excess of the Home Report valuation of the property. In spite of this, there are indications that the market is starting to cool off.
David Marshall, Operations Director with Warners, explained: "Although the premiums being paid over valuation are among the highest we have seen since Home Reports were introduced in 2008, there are definite signs that demand is starting to ease and conditions are becoming more favourable for those looking to buy.
"In the first instance, the number of properties that are available on the market is almost double that seen during the first three months of the year. With a greater selection of properties available, there will typically be less competition amongst buyers which will, in turn, lead to buyers having to pay smaller premiums in order to secure their new home.
"You can already see a reflection of this in the number of homes being marketed at a Fixed Price. Roughly one in five homes for sale in Edinburgh just now are being marketed at a Fixed Price. Earlier in the year, less than one in ten homes were marketed in this manner.
"In part this is due to seasonal factors, but the heightened economic uncertainty in recent months and accompanying impact on mortgage availability has also caused some homebuyers to temporarily put their plans on hold. Moving forward, it would be reasonable to assume that buyers will find it easier to secure properties for amounts that are more in line with the Home Report valuation. This will be of particular benefit to first-time buyers for whom market conditions have been especially challenging over the last two year."
< Back