Edinburgh Charity Makes an Important Move
That moving home can be one of life's more stressful experiences has become something of a cliché. The days spent packing and organising, not to mention saying goodbye to a home that will always be an important part of your life make it a major event no matter how many times you've moved before.
At Warners we are all too familiar with the stress of a big move and have helped ease the strain of the process for thousands of buyers and sellers over the years. With this in mind, we wanted to wish the very best of luck to the team at the Royal Hospital for Sick Children as it moves to a new hospital at Little France early next year – when it will become The Royal Hospital for Children and Young People (RHCYP).
To tie in with this name change, the hospital's much-loved and well-supported charity, The Sick Kids Friends Foundation, has now become the Edinburgh Children's Hospital Charity (ECHC).
Despite the new name ECHC will still work towards the same aim - the idea that those admitted to hospital are a child first, patient second - while continuing to raise money to provide vital funding for the equipment and services for the hospital that remain as important as ever.
Last year the charity paid out an incredible £3,180,815 in 82 grants that provided valuable support for the care of young people in Scotland. These grants went towards donations of equipment to the hospital, as well as valuable funds to cover training and research.
Projects to support the Child and Adolescent Mental Health Service (CAHMS) as well as services delivered at St John's Hospital in Livingston and Borders General Hospital also formed part of the generous grants.  
In order to promote the idea of 'child first, patient second' - ECHC funds an extensive Arts programme. This exciting programme of fun activities helps to distract children of all ages to make their hospital experience more positive and less scary by putting the emphasis on fun.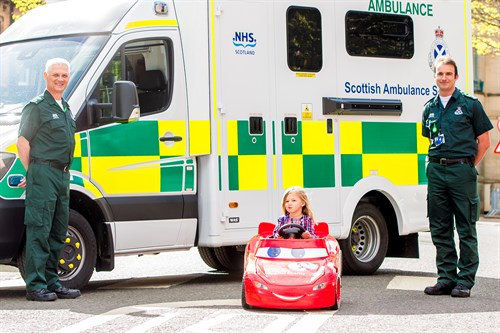 It is not only the children who are supported by the work of ECHC, as there are a number of support services in place for the parents of children in Hospital. PJ's Loft is a stand out facility, allowing parents with children who have to stay in the hospital a room to stay and shower facilities.
In addition to this they offer counselling and finance services to help ease the worry and the strain of having a child in the hospital.
The work that ECHC and the hospital do for the Edinburgh community and beyond is invaluable and we wish them all the best of luck ahead of their big move.
To find out more about the great work the hospital does and how you can help to support them, click here.
< Back